Ack van Rooyen's career in the jazz circuit and has a studio musician covers a broad spectrum. Born on New Year's Day, 1930, he graduated Cum Laude at the Royal Conservatory in The Hague in 1949. Ack subsequently joined the Arnhem Symphony Orchestra where he played until 1952. In the meantime his interest were turning more to jazmz and iprovisation.




Jerry van Rooyen

On a student trip to the United States with his brother Jerry and Rob Pronk, they heard the new sounds being created on New York's 52nd Street and were among the first to introduce the new music in Holland.
A period of interaction with lead musicians in larger and smaller formations throughout Europe followed. Returning to Holland he established himself in the Hilversum recording studio's (close to Amsterdam). Then Ack went to France for three years playing with the Aimé Barelli Orchestra during which time he was also active on the Paris jazz scene.




Robert Pronk

Moving on to Germany, Ack joined the newly formed SFB Big Band in Berlin (Germany) and later the SDR Orchestra in Stuttgart. During this period he toured and recorded with the Bert Kaempfert Orchestra as featured soloist. Together with Wolfgang Dauner and Albert Mangelsdorff he toured Asia and South America. He is a charter member of the United Jazz and Rock Ensemble as well as Peter Herbolzheimer's Rhythm Combonation and Brass.
He has played with the Clark Terry and the Gil Evans Orchestra on their European tours.

Presently Ack is based in Holland where he works with his own jaz quintet, The Dutch Jazz Orchestra, The Jazz Orchestra of the Concertgebouw and in duo with Joerg Reiter. He teaches at the Royal Conservatory in The Hague and leads workshops and coaches bands throughout Europe.


Discography (some of his work)

- Jazz Behind the Dikes (Philips)
- Kenny Clarke - Lucky Thompson (Columbia)
- Christian Chevalier (Columbia)
- German All Stars (CBS)
- Friedrich Gulda (MPS)
- Clarke-Boland Band (MPS)
-

- Colours/Eberhard Weber (ECM)
- Slide Hampton (MPS)
- United Jazz & Rock Ensemble (Mood Records)
-


- Peter Herbolzheimer Orchestra (Alanna Records)
- Rhythm Combonation & Brass (MPS and Koala)
- Bert Kaempfert (Polydor)
- Homeward (Mood Records)
- Romance/rogier van Otterloo (EMI)
- Pyramide/Eef Albers-Jasper van 't Hof (CrissCross)
- Birds of the Night/Eef Albers (Goldfish Records)
- The Netherlands Concert Jazz Band (NOS)
- Barlach Zyklus/Lee Konitz-Jiggs Whigham (Timeless)
- Ack van Rooyen/Joerg Reiter Vol. 1 & 2 (Mood Records)
- Oliver Peters - Mel Lewis-Bob Brookmeyer Sextet (NCC)
- Paul Heller Vol. 1 & 2 (Mons Records)
- Ack van Rooyen and the Metropole Orchestra Vol. 1 & 2 (NOS)
- Jazz Orchestra of the Concertgebouw (NCCB)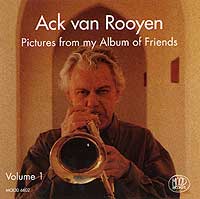 - Pictures from My Album of Friends (Mood Records)
- Chuck Israels & The Hanover Symphony Orchestra
- The Dutch Jazz Orchestra Portrait of a Silk Thread: Newly
- The Dutch Jazz Orchestra - You Go To My Head: Billy Strayhorn
- The Dutch Jazz Orchestra - So This Is Love: More Newly
- The Dutch Jazz Orchestra - Something to Live For: The Music
- The Dutch Jazz Orchestra - Plays the Music of Billy Strayhorn
- Billy Strayhorn Portrait of a Silk Thread
- Jerry Van Rooijen On Scene with Dutch Jazz (2000)



German

Ack van Rooyens Karriere im Jazz und als Studiomusiker schreibt europäische Jazzgeschichte. 1930 geboren, graduierte er am Königlichen Conservatory of the Hague 1949 mit cum laude. Er trat anschließend in das Arnheimer Symphonieorchester ein, in dem er bis 1952 spielte. Während dessen interessierte ihn immer mehr der Jazz bzw. die Improvisation. In dieser Zeit machte er bei einer Tour in New York auf der berühmten Jazzmeile der 52nd Street große Erfahrungen mit den bedeutendsten Musikern der goldenen Ära des Bebops. Er brachte diese Musik mit als erster nach Holland. Eine Periode von Interaktionen mit führenden Musikern der europäischen Jazzszene, in größeren und kleineren Ensembles, führen ihn durch ganz Europa.


In Frankreich spielte er 3 Jahre im Aimé Barelli Orchestra und war in der Pariser Jazzszene sehr aktiv. Im Folgenden zog es ihn zurück nach Deutschland. So schloss er sich der frisch geformten SFB-Big Band in Berlin an und später dem Orchester des SDR in Stuttgart. Während dieser Zeit spielte van Rooyen im Bert Kaempfert Orchester als Solist und machte mit ihm zahlreiche Aufnahmen. Zusammen mit Albert Mangelsdorf und Wolfgang Dauner tourte er durch Asien und Südamerika. Er ist das Gründungsmitglied des berühmten "United Jazz and Rock Ensemble" und der Peter Herbolzheimer "Rhythm combination and brass". Er spielte mit Clark Terry als auch mit dem Gil Evans Orchester auf deren europäischen Tourneen. Ack lebt in den Niederlanden, wo er mit seinem Quintett und mit dem Holländischen Jazzorchester vom CONCERTGEBOUW arbeitet. Er lehrt am "Royal Conservatory of the Hague", leitet Jazzworkshops, macht regelmäßig Fernsehauftritte und trainiert Big Bands in ganz Europa. Sein Bruder Jerry van Rooyen leitete Jahrzehnte die WDR-Big Band in Köln.