b. June 06, 1944, Brooklyn, New York - USA - http://www.davetaylor.net/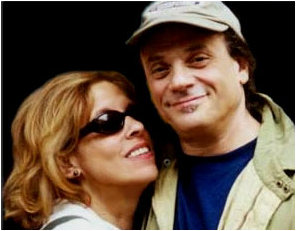 David with his lovely wife Ronnie (photo Rene Laanen)

Receiving B.S. and M.S. degrees from the Juilliard School of Music, David Taylor started his playing career
as a member of American Symphony Orchestra, and by appearing with the New York Philharmonic under Pierre Boulez. Almost Simultaneously, he was a member of the Thad Jones-Mel Lewis jazz band, and recorded with Duke Ellington (The New Orleans Suite), The Joe Henderson Big Band, The Rolling Stones, and Blood Sweat and Tears.

Mr. Taylor has recorded four solo albums (Koch, New World, and DMP), and has presented numerous recitals throughout the world (including Carnegie Recital Hall, Kaufman Aud. at the Y at 92nd St., and Merkin Hall). He has appeared as a soloist with the St. Lukes Chamber Orchestra, The Chamber Music Society of Lincoln Center, The Adelaide Philharmonic, and The Group for Contemporary Music among others.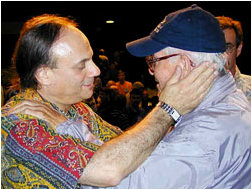 David with George Roberts (Photo Joshua Brown ITA)

He has been involved in dozens of commissioning projects for the Bass Trombone in solo and chamber idioms; collaborating with composers including Alan Hovhaness, Charles Wuorinen, George Perle, Frederic Rzewski, Lucia Dlugoszchewski, Eric Ewazen, David Liebman, and Daniel Schnyder. He has appeared and recorded chamber music with Yo Yo Ma, Itzhak Perlman, and Wynton Marsalis.

Throughout his career, David Taylor has appeared and recorded with many major jazz and popular artists including Barbara Streisand, Miles Davis, Quincy Jones, Frank Sinatra, and Aretha Franklin.
Mr. Taylor has won the National Academy of Recording Arts and Sciences Most Valuable Player Award for five consecutive years, the most it could be awarded; and has been awarded the NARAS Most Valuable Player Virtuoso Award, an honor accorded no other bass trombonist.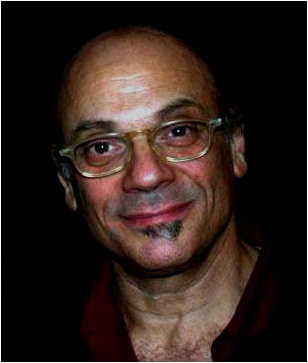 He has been a member of the Gil Evans Band, the Thad Jones-Mel Lewis jazz band, George Russell's Band, the George Gruntz Concert Jazz Band, and the Chuck Israel Band to name a few.
Although he has performed on numerous Grammy Award winning recordings, 1998 was special. In 1998 Taylor performed on four Grammy nominated CD's.
The J.J. Johnson Big Band, Dave Grusin's West Side Story, the Joe Henderson Big Band, and the Randy Brecker Band.

The latter two CD's were chosen for Grammys. David Taylor currently performs with The Chamber Music Society of Lincoln Center, The Charles Mingus Big Band, Eos Orchestra, The NY Chamber Symphony, The Mostly Mozart Festival Orchestra, The Michelle Camillo Band, Areopagitica (a brass trio in residence at Mannes College), The Bob Mintzer Band, and the Daniel Schnyder, David Taylor, Kenny Drew Jr Trio. He appears frequently with Orpheus, and the St. Lukes Chamber Orchestra, and he is on the faculties of the Manhattan School of Music, Mannes College, and SUNY Purchase.
The Getzen instrument Co. sponsors David Taylor, and has a David Taylor model bass trombone in its catalog.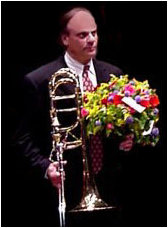 Upcoming events include appearances with the Santa Fe Chamber Music Festival, Chamber Music Northwest, and master classes and recitals in the U.S., Europe, and Japan. The Mannes College will schedule its Third Annual Trombone Day with David Taylor (1998). In 1999 Taylor will be performing four conserti written for him. Two of these will be world premieres by Daniel Schnyder and Franz Hackl. David will be appearing with the Absolute Ensemble under the direction of Kristian Jarvi (this project will be broadcast on European TV and recorded for Enja Records), The Niederoestereichische Tonkuenstler Orchester, and The Tiroler Symphonie Orchester Innsbruck.
"Mr. Taylor is a terrific player - with agility, sure intonation, personal piazzazz and some wondrous mute effects." (NY Times)
"...left every brass player in the packed house shaking his head in disbelief." (Chicago Tribune)
"...a bass trombonist with a marvelously dark cavernous sound and an attack that is as vividly dramatic as it is virtuosic." (NY Times)
"David Taylor's trombone virtuosity...was astounding." (Gannett Westchester Newspaper)
"For the past decade his name is always mentioned among the most original bass trombonists of the 20th century. His unbelievably facile technique and his versatile musical knowledge make him a veritable musical chameleon.David Taylor has never ceased pursuing ever higher standards in the development of personal style. Jealously guarding his independence, he has been in the best big bands, in classical orchestras, in the most diverse kinds of chamber music groups. His journey is a profession of faith and reveals a clear and cultivated sprit, spurred on by a rich imagination." (Brass Bulletin)
"...Jazz made direct contact with Friday's concert, first in the playing by Wynton Marsalis and David Taylor of the trumpet and trombone parts ("L'histoire du Soldat"), and then in Mr. Marsalis's gloss on the Stravinsky piece called "A Fiddler's Tale." Stravinsky gives both brass players very difficult parts, and they realized them here with splendid articulation and gorgeous sound. Indeed, so beautiful were the timbres, so rich and quivering....." (NY Times)


David Taylor with his good friend bass trombonist René Laanen